The Logitech Rally Bar is An Evolution To Conferencing Camera, the company continues its success story and introduces a cutting-edge all-in-one video conferencing system.
For all medium-sized meeting rooms, in the footsteps of its popular rally system and meetup huddle room systems.
Using today's most advanced camera technology for conference rooms, you will record your entire meeting in high resolution.
This Logitech Rally Bar offers every functionality you could possibly want in a professional 4K conference camera.
Logitech Rally Bar Review 
The Logitech Rally Bar is a comprehensive video conferencing bar that offers customers an audio and visual conferencing experience on a similar level to that of a movie theater.
Excellent camera optics, automatic PTZ (Pan-Tilt-Zoom), sound optimization, HD video conferencing, etc, are some of its outstanding features.
These capabilities have been developed to provide customers with a fantastic video conferencing experience with no distortion or noise.
This bar also equalizes loud and soft speech and eliminates background noise thanks to its cutting-edge RightSound technology.
Customers will have wide coverage with a field of vision that extends 130 degrees across and 80 degrees high, all without compromising overall video quality.
Moreover, the Logitech Sync software makes it simple to control Rally Bar. Additionally, it contains low-distortion speakers for crystal-clear audio during the conference.
Specification of Logitech Rally Bar & Details
Product Type: Digital Meeting Video Conferencing System
Platforms: Zoom, Google Meet, Tencent Meeting Rooms, Microsoft Teams, RingCentral Rooms,
Speakers: 2 x 70mm
Resolution: 4K, 1440p, 1080p, 900p, 720p, and SD at 30fps
Microphones: up to 7m
Zoom: 15X HD zoom (5X optical and 3X digital)
Internet Connection: Wired or wireless
Ports: 2x HDMI out, HDMI in, 4x USB 3
USB Mode: Windows® 11, and Windows 10, the two most recent versions of macOS
Dimension of Logitech Rally Bar:
Height: 164 mm Width: 910 mm Depth: 130.5 mm Lens Depth: 28.8 mm Weight: ~7 kg
What You Will Get Inside The Box?
●  Rally Bar 4K UHD All-In-One Video Conference Camera – Graphite and White
●  Power Supply
●  AC Power Cord
●  HDMI Cable
●  USB Cable
●  Remote Control
●  Lens Caps for the Main Camera and AI Viewfinder
●  User Documentation
●  Logitech 2-Year Limited Warranty
Why Choose Logitech Rally Bar?
With everything built into one device that can be placed on a desk or wall, Logitech's Rally Bar is a far more organized option for your digital meetings.100% PC-Free Solution.
This sound bar can be linked to a PC or Mac via a USB connection (both USB A and USB C work), and the meeting chairman can easily launch their favorite meeting application.
Such as Zoom, Teams, or anything else for smooth and high-quality meetings. Also can record the video and post it as a podcast on YouTube etc.
However, the magic begins when you connect Tap (a touchscreen controller) which is an optional external device for the Rally Bar.
This extra expense, which is optional, costs roughly $889.
Certainly, it's a lot of money, but since we're in the digital world, we can easily experiment with additional features that enhance our experience even higher if we first invest in the finest for the workplace.
Compared to connecting to a PC, it can help you save even more time and effort.
The touch controller adds to the overall cost, but it is worthwhile if you want the most secure meeting start possible. Tap has a 10.1-inch touchscreen panel that can be easily mounted on the wall or even placed on the tabletop.
When Rally Bar is connected to the internet, users can use their smartphone to integrate any device straight to their account on Zoom, Microsoft Teams, and Google Meet.
Once completed, the product is connected directly. Tap displays a list of all your existing contacts, and using this list, you can initiate meetings and send invitations with convenience.
All connections connecting Tap and Rally Bar are nicely held and covered on the back under a lid. This will stop a cable from being unintentionally yanked out, preventing the following connector from understanding the carrier.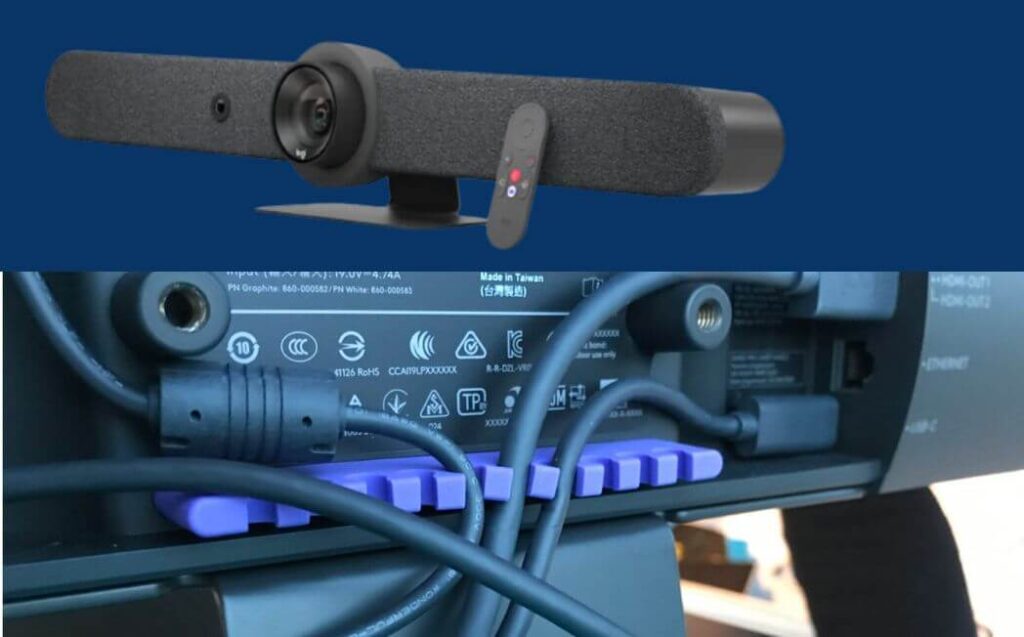 The Logitech Rally Bar Simple Connectivity.
Because of the numerous technical problems associated with connecting, and controlling the microphone, screen, and speakers, the most recent estimate we read and saw for video meetings/conferencing was that it took around 7-8 minutes to get started effectively with the conference.
When you realize that a video conference usually lasts between 31 and 60 minutes, you know that a significant portion of that time is eaten up by initial technical difficulties.
Additionally, time is money at work.
Is Logitech rally bare a High-tech SoundBar?
It can be beneficial in this situation. The Logitech rally bar is simply a high-tech SoundBar that has a built-in camera and microphones.
It's a comprehensive video conferencing system, recording the whole room with a 4K camera that automatically moves and zooms in and out based on the number of individuals physically present inside the conference room – and where they're seated.
Furthermore, it has an integrated microphone system that records the sounds in the room and transmits them digitally to participants as clearly as possible.
Is the  Logitech rally Bar a high-quality Camera?
You can see Rally bars at several workplaces, and also can be used for your video calls with your coworkers.
Those who participated virtually had the best view of the meeting space because of the camera's close-up and panning focus.
The camera would follow you while you moved closer or farther. Thus, anything you put on the board will be visible to everyone.
The camera doesn't react right away to the smallest motion, which would make the other participants queasy. Typically, the response takes a little while.
The camera maintains its 4K quality all the way up to a 5X optical zoom, even though it has a maximum zoom setting of 1:4. A region that is denser may cause the picture to be digitally cropped and lose resolution.
It's worth noting that Zoom's resolution is now restricted to 720p, in practice, you can utilize the camera's full zoom range, including the digital, without sacrificing the quality of the images.
Given that "everyone" utilizes Zoom's platform, it arguably made sense for them to set a bandwidth cap because even users with 4K screens won't fill the full screen during a video conference.
If they do, most of the screen will be taken up with thumbnails of other attendees, rather than a large image of your meeting space.
Two Displays.
Rally Bar can also be linked to two 4K TVs to provide the finest possible perspective for digital participants.
If you want to see presentations and data graphically during the conference, we would suggest you use two displays.
Open a Powerpoint presentation or spreadsheet on your computer and display it wirelessly if you have a Zoom Rooms subscription.
Its proximity sensor will recognize when a neighboring PC opens certain applications like Excel Spreadsheets or PowerPoint (yes, indeed you must confirm that the content/data is to be presented).
In the case that the proximity sensor doesn't function properly, attendees in the meeting have the option of activating direct sharing by entering a passcode.
However, the Rally Bar's HDMI port is great for sharing information from a computer, and sometimes you might be required to enter a password because its proximity sensor doesn't work properly.
The Rally Bar Pros & Cons
 Pros
 High Resolution (4K) pan tilt zoom camera.
 Display resolution up to 1080p
 The array of beamforming microphones.
 Noise suppression with AI-based de-noising algorithm
 compatible with the majority of digital videoconferencing providers.
 A broad field of sight
simple setups
Logitech Rally Bar Cons
 Two hubs for connections appear redundant.
 needs a different computer.
 Slightly Heavy
 Expensive
conclusion
This Logitech Rally Bar can be beneficial in this situation. It's simply a high-tech soundbar that has a built-in camera and microphones.
Easy to set up and work anywhere, no need to be an IT tech to set it up.
If this sounds like the right equipment for you, click on the Shop Now button at the top of the page to get more detail and price.